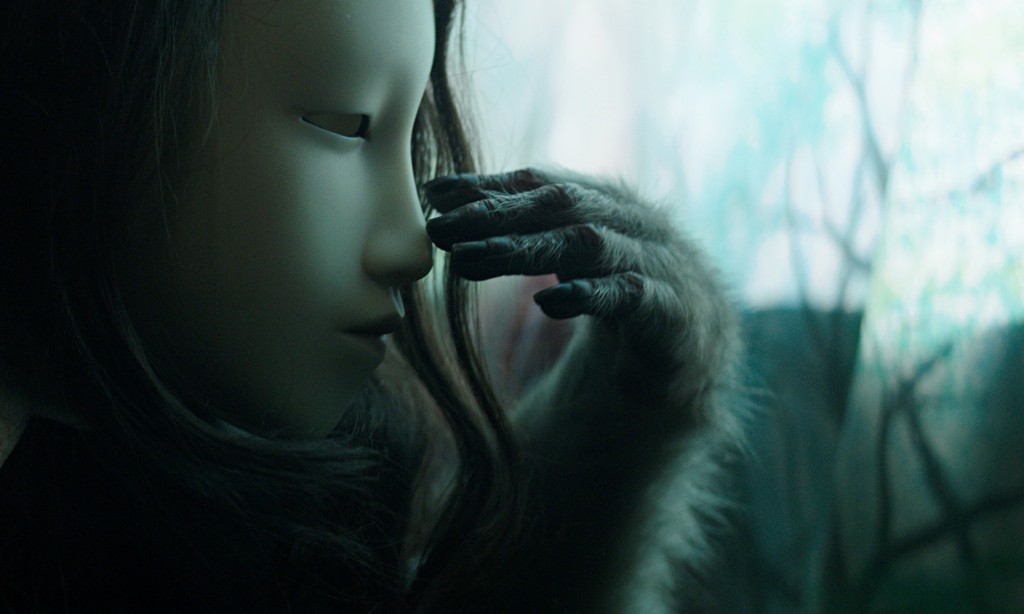 Monkey business
---
Wonder how it would be when animals take over our world? Enough scary apocalyptic films have appeared during the years where all sorts of creatures, from gigantic gorillas to tyrannosaurus rex, slowly and violently make their appearances in the human environment. Fortunately it hasn't come so far yet, however in some cultures people uses animals to assist in our day to day life. The use of monkeys in restaurants, helping mainly with small chars, is not uncommon in Japan (other examples can be found elsewhere).
French artist Pierre Huyghe (b. 1962) was inspired by this fact and integrated it in one of his most recent films, titled Untitled (Human Mask) (2014). The film starts in a car where a public-address system warns us of an approaching tornado. The car drives between destroyed buildings somewhere near the city of Fukushima, Japan. We don't see any people, it is just us and the camera. The film continues in a restaurant where, so it appears, a girl in a blue dress sits in the gloom. Her face is hidden behind an expressionless mask, which is artificial and impassive blank. It gives nothing away. Lustrous black hair surrounds this mask. Who is this creature? Is it a marionette or a masked child actress? We can observe that the arms and hands are furry, they look far from human. When looking closely lively black pupils look through the slits of the mask.
She sits, plays with her hair, examines the hem of her dress and herself in the mirror. There is no one else in the restaurant. This image evokes a sense of loneliness knowing the fatality of the approaching storm. Is she the last creature on earth?
This female living thing is a macaque monkey who worked as a waitress in a real restaurant. Handing out towels and performing other simple chars are part of her tasks for one purpose, the amusement of the clientele. The restaurant is now longer open and she has no job or role to play, except from being this mysterious and enigmatic presence.
Huyghe turns a real fact, a real monkey and a real restaurant, into his own fiction, a dystopian setting. Monkey business it is.