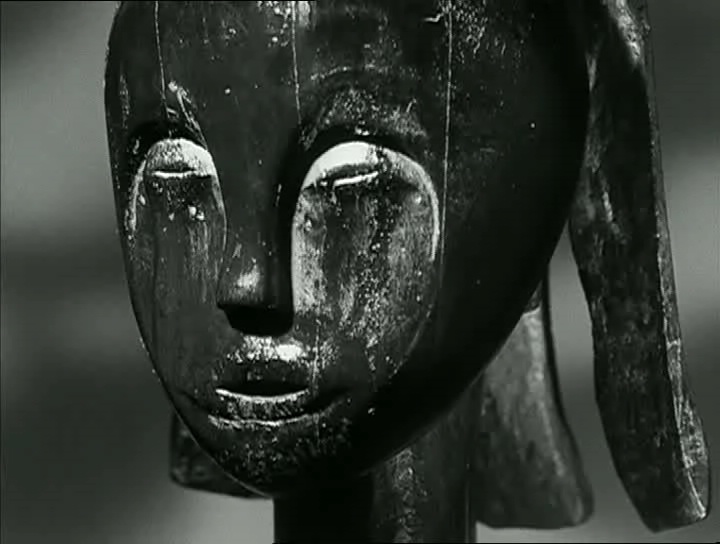 Les statues meurent aussi
---
'When men die, they enter history. When statues die, they enter art. This botany of death is what we call culture'. It is with this statement that the for its time critical film Les statues meurent aussi (1953) by Alain Resnais (1922-2014) and Chris Marker (1921-2012) begins. Due to its criticism of colonialism, the second part of the documentary was censored in France until the 1960s.
The starting point of the documentary is the question why African art is shown at the ethnological museum while Greek and Egyptian art can be seen at the Louvre in Paris. The film is about historical African art and the effects colonialism has had on how it is perceived. It shows a series of masks, sculptures and other traditional art. The narrator talks about the perception of the sculptures from a historical and contemporary European perspective. The idea of dead statues is explained as statues which have lost their original significance and become a simple museum object. This is compared to dead persons who can be found in history books. The second part of the documentary focuses and problematises the modern commercialisation of African culture.
Colonial presence has forced African art to lose much of its idiosyncratic expression in order to appeal to the white and Western consumer. In the final part the film presents and comments on the position of Africans in then contemporary North America and Europe. Les statues meurent aussi ends with the argument that we should view European and African art history as one inseparable culture.
Even though the documentary is sixty-one years old it has not lost any of its power, criticism and topicality. The Louvre has still no department for Sub-Saharan African art. Musée du Quai Branly acts as a good substitute, but the issue remains. Les statues meurent aussi is very much alive.