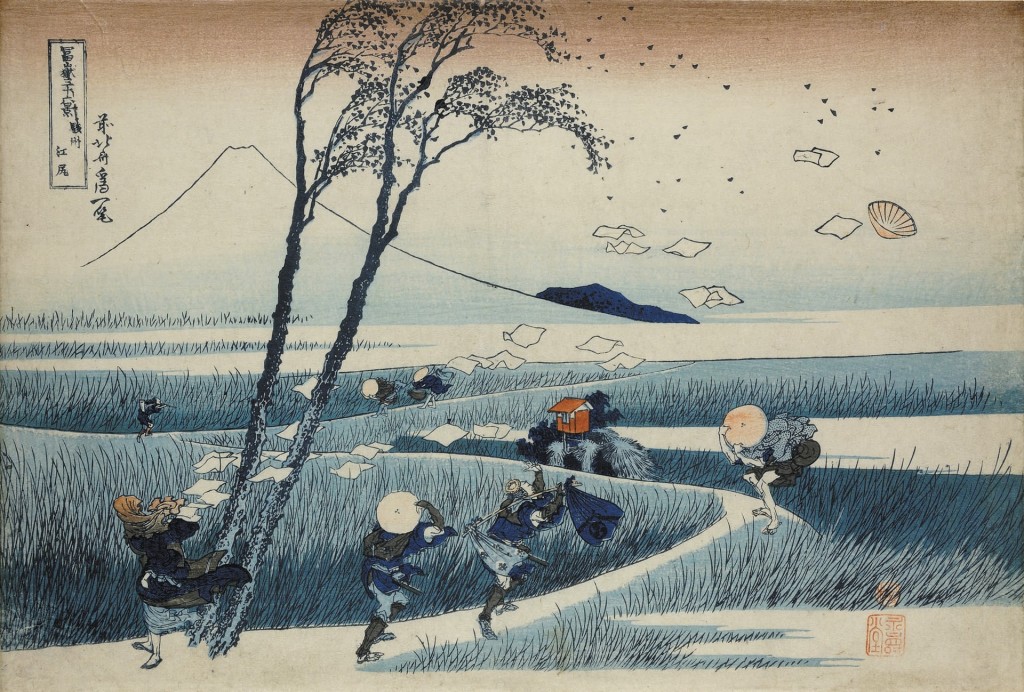 A sudden gust of wind
---
The work of Katsushika Hokusai (1760-1849), one of Japan's most prolific and enduring artists, influenced and marked undoubtedly the history of Asian art. His print series, Thirty-Six Views of Mount Fuji (c. 1831), including the iconic The Great Wave off Kanagawa, ensured his fame [1]. Produced only in his 70s and at the height of his career, Hokusai managed to create an image that swept over the world. The effect and influence that his prints had on Eastern and Western culture are undeniably notable, up to our present day.
Canadian photographer Jeff Wall (b. 1946) also fell for the charm of these Japanese landscape prints. Wall became known for his restaging of classics in the history of art, such as A Bar at the Folies-Bergères (1881-2) by Édouard Manet. This was also true for the iconic series by Hokusai. Wall reinterpreted the woodcut Travellers Caught in a Sudden Breeze at Ejiri (c. 1832), one of the other 46 prints in the series [2]. Though it isn't the most famous of the bunch, the image seemed characteristic enough to be reinterpreted. The result became A Sudden Gust of Wind (after Hokusai) (1993), a large colour photograph displayed in a light box.
The image depicts a flat, open landscape in which four figures are struck by a sudden gust of wind. Wall photographed and then collaged elements of it digitally in order to achieve the desired composition. The resemblance to Hokusai's original is almost spotless.
As in Hokusai's print, two men clutch their hats to their heads while a third stares up into the sky, where his hat is being carried away by the wind. On the left, there's a woman with her scarf blown around her face. Paper is being dispersed by the gust. Two narrow trees bend by the force of the wind, releasing dead leaves which mingle with the floating papers. In Hokusai's original the landscape is a curving path through a reed-filled area, leading towards Mount Fuji in the far distance. In Wall's version, brown fields adjoin a canal. We see small shacks, telephone poles and concrete pillars and piping, evoking industrial farming. There is nothing romantic about this landscape. In Hokusai's image Mount Fuji distracts and mesmerizes us completely, romanticizing the scenery. The light colour palette only accentuates this romantic impression.
Although Wall's version is a remarkable interpretation of Hokusai's original, both images breath a different atmosphere resulting in two individual works. It shows that a work can really stand on its own no matter what the inspiration might be. A worthy adaptation.
[1] Mentioned briefly in the previous Little artnecdote on the work Ascent of Fiona Tan.
[2] The series contains 36 original prints with an addition of 10.